Em đọc nhiều hướng dẫn trên ipodwizard , rùi ipodlinux , ipodstaff .... nhưng túm lại vẫn chưa thành công . Sau đây là các bước làm của nó :
1. Create A Folder In Root Of C:\ "ipod" (if you don't put this in this exact folder, you'll have to modify the location of the folder at the C step with the "cd" command)
2. You Have To Have These Files (Download To Above Folder)
ipod_fw.exe
iPodPatcher.exe
3. Now, Use iPodWizard, load your ipod firmware and then use IPW To Change Anything You Want To Change in your theme.
4. Then Press Write
5. Now Open A Command Prompt (Goto Start, Run, And Type cmd)
6. In the command prompt you opened, navigate to the folder where you downloaded iPodPatcher.exe by using the "cd" command.
A. Type "cd.." Press Enter (don't forget the 2 dots)
B. And Continue Typing "cd.." Until It Says Only "C:\"
C. Then Type "cd ipod"
7. Make sure your iPod is still connected, then type 'ipodpatcher 0′ into CMD. If it nothing appears, change the 0 with 1, 2, 3, 4… ipodpatcher.exe should launch in an other DOS window, close it.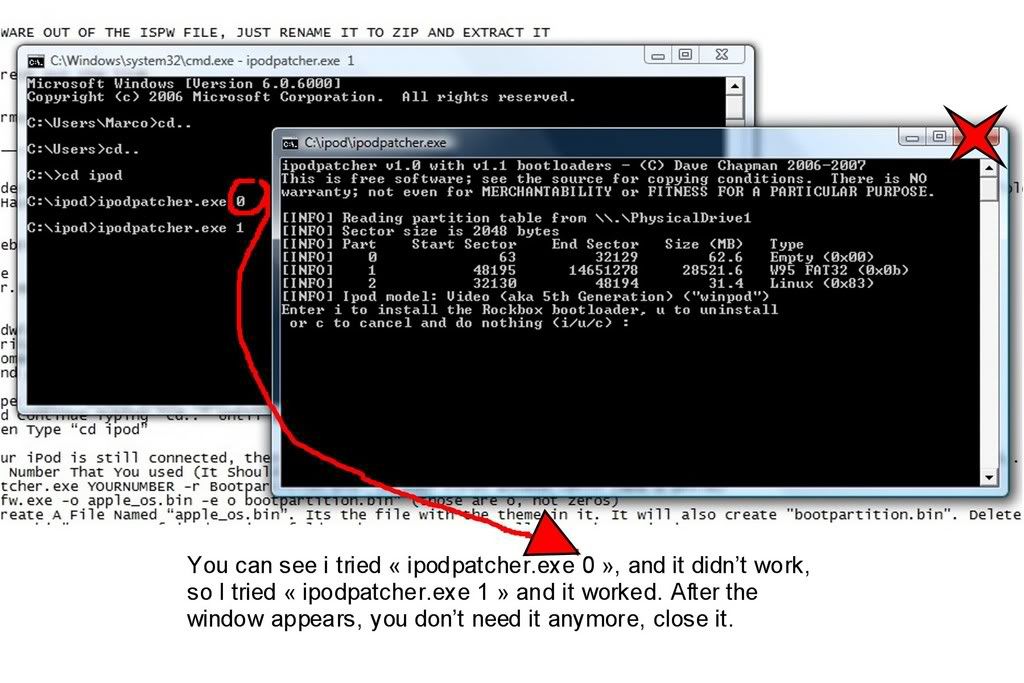 8. Remember The Number That You used (It Should Be Between 0-6)
9. Type "ipodpatcher.exe YOURNUMBER -r Bootpartition.bin" in your first window.(Will Take A While)
10. Type "ipod_fw.exe -o apple_os.bin -e o bootpartition.bin" (those are o, not zeros)
11. This Will Create A File Named "apple_os.bin". Its the file with the theme in it. It will also create "bootpartition.bin". Delete this file. Both files will be in the C:\ipod directory.
12. Copy "apple_os.bin" To Root Of iPod or in a folder where you can put all your themes in it.
IMPORTANT !!!!!!! THE FILES CAN'T HAVE A NAME LONGER THAN EIGHT CHARACTERS AND THE EXTENSIONS NO LONGER THAN 3 !!!! EXAMPLE: eight_88.333
13. -Continue With Remaking The Themes And Saving It (Step 3-12), but Each Time By Step 10 Just Add A Number After apple(1,2,3).bin
-Make sure that you use a clean updater each time you modify your theme, or else the previous theme may 'leak through'.
-Also make sure that you delete the 'booloader.bin' file after 'apple_os.bin' is extracted, or else it will interfere with the following themes.
14. Install The iPodLinux Bootloader.
15. In The Loader CFG file,After The "Apple OS @ osos", Line Add
Theme 1 @ (hd0,1)/apple_os.bin OR Theme 1 @ (hd0,1)/Themes/apple_os.bin
Theme 2 @ (hd0,1)/apple_os(1).bin OR Theme 2 @ (hd0,1)/Themes/apple(1).bin
Etcetera . . .
IMPORTANT !!!!!!! THE FILES CAN'T HAVE A NAME LONGER THAN EIGHT CHARACTERS AND THE EXTENSIONS NO LONGER THAN 3 !!!! EXAMPLE: eight_88.333
So, your loader can look like this :
#iPodLoader 2.5 config File
backlight = 1
timeout = 10
default = 3
Apple OS @ osos
Broken theme mod @ (hd0,1)/Themes/brokm.bin
Theme 1 @ (hd0,1)/Themes/apple_os.bin
Theme 2 @ (hd0,1)/Themes/apple(1).bin
iPodLinux @ (hd0,1)/linux.bin
Rockbox @ (hd0,1)/rockbox.ipod
Disk Mode @ diskmode
Sleep @ standby